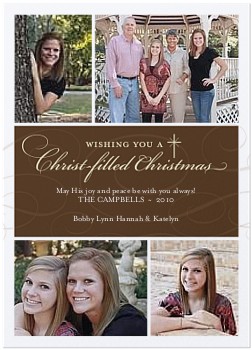 Christ Wishes Religious Christmas Card

I LOVE our Christmas cards from Shutterfly! For many years we sent out Christmas cards with family pictures. I loved doing that but after 9/11/2001 Bobby lost his job and it was almost 17 months before he got work again. Needless to say, we didn't get to send cards that year, nor the next. In fact, we haven't been able to send Christmas cards for several years now. It's one of the things I've missed since I enjoy getting cards every year. It's fun to see family and friends growing through the years.
I was excited when I learned of Shutterfly's promotion for bloggers. It was a pleasure to write about because it was a very nice product. With so many card designs and formats, shapes, sizes and colors - there's something for everybody! In my case there were too many to choose from! I wanted several designs I saw. :) Already looking forward to next year's card line-up.
Thank you Shutterfly, for your generosity! And thanks for a beautiful product that I am going to be so proud to send out to friends and family this Christmas!
And friends, if you blog it's not too late to get in on this offer! But time IS growing very short! Check out my previous post for the link.